19th Century Paintings

Roadside Meeting
ALVAN Fisher (1792 - 1863)
Oil on Canvas
Considered a pioneer in American genre, landscape and animal painting, Fisher was born in Dedham, Massachusetts in 1792. He studied briefly with John Ritto Penniman, an ornamental painter.
Fisher's early attempts at landscape painting were harsh and overly dramatic, but, by the early 1820's, his compositions had become softer and more refined. This improvement was furthered by a European tour in 1825.
Upon returning to Boston, he established a studio and realized immediate success. Fisher's records reveal sales of nearly 1,000 paintings between 1826 and his death in 1863.
Fisher traveled throughout the eastern United States recording his observations in a notebook. These impressions would later be incorporated into his paintings. Fisher often emphasized the grandeur of a natural scene through the inclusion of insignificant figures.
Roadside Meeting contains the "water, rising ground, and woodbanks" prescribed by the 18th century landscape theorist, William Gilpin, as ingredients for the "picturesque." This painting demonstrates how Fisher combined and rearranged previously observed details to conform to the existing conventions of landscape painting. Like the vast majority of his works, Roadside Meeting has a pleasant idyllic quality, enhanced by his superb use of color.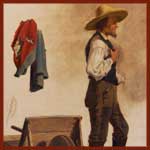 The Veteran - 1867
Thomas Waterman Wood
(1823-1903)
Oil on canvas
12 inches by 10.25 inches
Cahoon Society Purchase, 2008
Like his famous colleagues William Sidney Mount and George Caleb Bingham, Wood was one of the first genre painters to depict African-Americans with dignity. Though born in Vermont, he spent many years in Nashville, Tennessee and Louisville, Kentucky painting Black union soldiers. Three of these, The Contraband, showing a runaway slave eager to enlist; The Recruit, depicting the same soldier proud in his new uniform; and The Veteran, depicting a grizzled, one-legged and war-weary survivor, earned Wood election into the National Academy of Design in 1867. Following the success of these pictures, Wood determined to devote his attention to genre.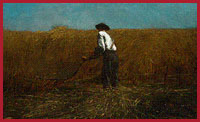 This painting bears the same title as one of Wood's 1867 pictures. Although the subject is identified as a Confederate cavalry officer by the coat hanging on a peg, the harsh reality of post-war life is every bit as evident. Like Winslow Homer's The Veteran in a New Field, c. 1865 (pictured at right) both hint at the carnage of war. In Homer's picture the farmer's scythe looks like the grim reaper's tool while in Wood's oil sketch the Veteran's left hand has been omitted from an otherwise meticulous character study.
Mercy's Dream
Daniel Huntington (1816 - 1906)
Oil on Canvas
Daniel Huntington was born in New York City and was first exposed to painting during a visit to the studio of John Trumbull. Huntington studied at Yale and Hamilton College and privately with Samuel F.B. Morse and Henry Inman. His major contribution to the art world was portraiture, but he was also noted for his genre scenes, still life and allegorical works. A prolific painter, he produced some twelve hundred paintings. Huntington's presidency of the prestigious National Academy was the longest in the institution's history and he served as vice-president of the Metropolitan Museum of Art for some twenty-three years.
Mercy's Dream was inspired by part two of John Bunyan's "Pilgrim's Progress" (1684). The subject matter centers on the passage in which Mercy tells Christiana:
I was dreaming that I sat alone in a solitary place, and was bemoaning the hardness of my heart...methought I looked up, and saw one coming with wings towards me. So he came directly to me, …. I followed him up to a throne, upon which One sat: and He said to me, "Welcome daughter!"
Huntington painted several versions of this scene - all similar but with varying degrees of detail. Earlier renditions are in the collection of the Pennsylvania Academy of the Fine Arts, the Corcoran Gallery and the Metropolitan Museum of Art.
A Forest Clearing - 1870
Ralph A. Blakelock (1847-1919)
Oil on Wood Panel

Summer Rowboat - 1875
Benjamin Champney (1817-1907)
Oil on Canvas
Coming to the Parson 1870
John Rogers (1829 - 1904)
Painted Plaster
For more than a generation, John Rogers reigned as the "people's sculptor" of America. Rogers designed and mass produced inexpensive, putty-colored, cast plaster statuettes. These "Rogers Groups" often told simple and sentimental narrative stories. They became as essential to the well-appointed Victorian parlor as the chromolithograph, the horsehair sofa, antimacassars, and the velvet-covered photograph album.
Roger's "published," as he called it, seventy-seven groups between 1859 and 1892, selling eighty thousand statues (at an average price of $14) and grossing more than a million dollars.
Coming to the Parson was his most popular group selling 8,000 copies. This piece illustrates the artist's coy sense of humor: as the happy couple asks a country parson to marry them, a cat and dog prepare for a fight at their feet - a portent, perhaps, of the vicissitudes of married life.
Rocky Pasture
Thomas Hewes Hinckley (1813 - 1896)
Oil on Canvas
Born during the year of 1813 in Milton, Massachusetts, Thomas Hewes Hinckley had early artistic aspirations. His father, however, frowned on such a career, so he apprenticed young Hinckley to a Philadelphia merchant in 1829. Nevertheless, Hinckley soon began evening classes with William Mason. These classes were to be Hinckley's only formal art instruction.
In 1833, Hinckley returned to Milton and established a studio where he first painted signs and portraits. Later, he specialized in painting dogs, dead game and prize cattle.
During a European visit in 1851, Hinckley was greatly influenced by Sir Edwin Landseer's celebrated animal paintings. The Royal Academy exhibited two of Hinckley's hunting scenes in 1858. Returning home, he exhibited at the Pennsylvania Academy of the Fine Arts and at the National Academy of Design. Gentlemen farmers were quick to purchase his works therefore reducing the occasion for public exhibition of his paintings.
Through the generosity of William Swain, Hinckley was allowed access to the private and exclusive Naushon Island to sketch deer. He later continued these studies in the Adirondacks and at Moosehead Lake. Hinckley also traveled to California to make studies of elk.
While capable of painting landscapes in the Hudson River School style, Hinckley mostly used them as backgrounds for his animals. In later years he painted landscapes more frequently, but refrained from public exhibition.

Strawberries on a Leaf 1867
Edward Chalmers Leavitt (1842-1904)
Oil on canvas
Although there is little information concerning the details of Leavitt's life and career, he was, in the late 19th century, the most popular still life painter in Providence, R.I.
Leavitt's tabletop arrangements, often featuring flowers, fruit, antiques and vintage bric-a-brac, were highly prized by the Victorian middle class. His paintings are notable for their sense of texture – noticeable when one compares the velvety strawberries to the glistening drop of water sliding off the leaf.
During the 1870s and 1880s, Leavitt was a frequent exhibitor at the National Academy of Design. Regretfully, as the turn of the century approached, the quality of Leavitt's work declined and his fine reputation faded. As with many other Providence painters, there is presently a renewed interest in Leavitt's work.
Study of Peaches
Abbie Louella Zuill (1856-1921)
Oil on canvas
Abbie Zuill, née Allen, was born in Fall River in 1856. Very little is documented concerning her early education. She studied painting with Robert Spear Dunning, the founder of the Fall River Evening Drawing School. Said to be Dunning's favorite student, Zuill followed her mentor's lead and made a specialty of depicting fruit and flowers.
It is interesting to note the manner in which Zuill signed her works. The paintings for friends and family are often signed in a way to include her nickname, "Ella," while the rest are signed A.L. Zuill.
After Dunning's death in 1905, Zuill was commissioned to complete many of her teacher's unfinished paintings. Abbie Zuill gained nation-wide attention for her paintings, and several of her works were reproduced in artistic publications.
Selected Examples of works by Ralph Cahoon :: Selected Examples of Works by Martha Cahoon
American School Paintings :: Maritime Paintings :: American Impressionism :: 19th Century :: 20th Century
21st Century Cape Cod Artists