American School Paintings
Click on an image to see a larger version.
Portrait of Captain Levi F. Doty
18 1/4 x 15 1/4 inches

Portrait of Grace Fish Doty
18 1/4 x 15 1/4 inches

c. late 1820s - early 1830s
Unknown Artist
Oil on Canvas

Clearly the work of a professional portraitist, these companion portraits are unified by their strong diagonals in the background sail and drapery as well as in the manner that the sitters turn to each other. When compared with the rather generalized structure of the bodies, the facial features are individualized and convincingly modeled.

Captain Levi F. Doty (1805-1890) and Grace Almira Fish (1804-1872) were married in Falmouth, Massachusetts in 1828. Captain Doty was an officer in the U.S. Merchant Service. Both he and his wife are buried in Falmouth's East End Burying Ground (presently home to Falmouth Jewish Congregation, Hatchville).

Upon examining the details of the paintings, one will notice that Captain Doty is writing a note while aboard ship, and Mrs. Doty holds a note as a ship is seen sailing by her window.

The January 1827 English publication Ladies Pocket Magazine describes Mrs. Doty's dress, "Velvet dresses, either black or crimson, for married ladies at evening parties, increase in favor..." In addition, long chains securing a watch, locket, cross or scent bottle continued to be mentioned as a fashionable accessory in popular ladies' magazines throughout 1831.
Portrait of A Lady
30 x 24 inches

Portrait of a Gentleman
30 x 23 inches

c. 1827
Erastus Salisbury Field (1805-1900)
oil on canvas

Erastus Salisbury Field is among the most prominent and well-researched of 19th-century American Folk artists. From Leverett, Massachusetts, Field studied briefly with the noted American painter and inventor Samuel F. B. Morse but largely acquired his facility in paint through prolonged self-study.

Outstanding qualities evident in Field's portraits are the ability to capture a true likeness, his superb sense of design, the "aura" of light emanating from behind the figures and his skillful craftsmanship. The Cahoon Museum's Fields almost certainly depict a Connecticut couple, as they bear a striking resemblance to a Glastonbury pair he painted (now in the collection of Old Sturbridge Village) while on tour of the Connecticut River Valley.

While the names of the couple depicted are now unknown, it is evident they are prosperous, middle class individuals. Details such as the magnificent bonnet worn by the woman , her gold chains, broach and earrings hint at her comfortable status while the book she holds in her lap provides a clue as to her literate and cultivated nature. Prominent in her husband's likeness, the jeweled shirt pin and flamboyant starched collar indicate his social standing while the magnificently detailed songbook, held open in his lap, hints at this status as a choirmaster or musician.



Portrait of a Gentleman
18 3/4 x 14 3/4 inches

Portrait of a Lady
18 3/4 x 14 3/4 inches

Attributed to William Matthew Prior (1806 - 1873)
Oil on board

William Matthew Prior, born in Bath, Maine, was a self-taught itinerant portrait and landscape painter. During the late 1820's and 1830's, Prior traveled all through New England and as far south as Baltimore painting likenesses. In 1841, he settled in Boston where he established a portrait studio with his brothers-in-law, the Hamblens, who were artists as well.

Prior actually had two styles, one well-drawn and modeled, and the other flat. While the quality of his likenesses was never compromised, he tailored his work to the purse of his sitters. In 1831, he advertised in the Maine Inquirer, "Persons wishing for a flat picture can have a likeness without shade or shadow for one-quarter the price." His portraits ranged in price from one to twenty-five dollars.

This economical "flat" style of portraiture enabled Prior to compete with the booming photography business. A rare printed label attached to the back of one of Prior's cut-rate likeness demonstrates his response to this new competition from the daguerreotype studios: "PORTRAITS/PAINTED IN THIS STYLE!/Done in about an hour's sitting./Price $2.92 including Frame, Glass, &c./Please call at Trenton Street/East Boston/WM. M. PRIOR."
Primitive Portrait of a Mother and Child
c. 1840-41
Unknown American Artist
Oil on Canvas
Gift of Dr. and Mrs. Paul Jameson

The subjects are Lucie Blossom Smith and her daughter, Lucie. The portrait was probably painted in Providence, Rhode Island.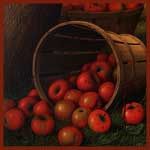 Bushels of Apples Under a Tree
1892
Levi Wells Prentice (1851 - 1935)
Oil on Canvas
Levi Wells Prentice was born in Harrisburg, New York in the Adirondack region. During the early part of his career (1870's and 1880's), he specialized in painting the landscape of upper New York State. After Prentice moved to Brooklyn in the late 1880's, he turned his hand to still life, since Brooklyn obviously lacked the semi-wilderness scenery.
Brooklyn, though just across the East River, was distinct from the more fashionable and urbane Manhattan. Brooklyn maintained its own art association as well as artistic identity. Two of Prentice's contemporaries, Joseph Decker and William Mason Brown, were also residents of Brooklyn and well-known for their still lifes. It has been suggested that Prentice may have derived the concept of fruit spilling from an overturned basket from Brown's popular chromolithograph, Basket of Peaches Overturned.
It has not yet been concluded if Prentice deliberately tried to achieve a trompe l'oeil effect in his paintings. Trompe l'oeil is a french term meaning "trick the eye." The apples are brought to the foreground of the picture plane and all forms are most carefully delineated. The forms, however, are emphasized with dark outlines adding to the controversy of whether or not Prentice should be considered a primitive artist rather than a deliberate practitioner of trompe l'oeil.
One thought, it is interesting to realize the many textures that Prentice has introduced in this painting. Notice the lush grass, the firm apples, the smooth balsa-like wood of the basket, the splintery newel post and the scaly bark of the trees.
However, it is curious that after four decades of painting still life, Prentice was posthumously eulogized as a landscape painter.
Selected Examples of works by Ralph Cahoon :: Selected Examples of Works by Martha Cahoon
American School Paintings :: Maritime Paintings :: American Impressionism :: 19th Century :: 20th Century
21st Century Cape Cod Artists