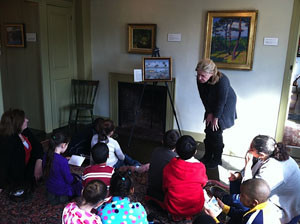 The Cahoon Museum's Education Program offers diverse programs which reflect the complexity and challenges of American art and explore the themes of exhibitions on view for learners of all ages. Education programming is a vital link between the Cahoon's exhibits and its diverse public. Offerings for children and families, teens, adults, community organizations, school groups, educators and visitors with disabilities are made possible at low or no cost to the general public through the generosity of our donors.
Contributions to all areas of Education in any amount are welcome and provide important, direct support to annual program costs. Each program encourages creative thinking and, whenever possible, incorporates working artists into the programming. The Cahoon's education programming provides many diverse opportunities for adults and students to develop a deeper understanding of the Collection and related programs.
Gifts to the Education Program can help to underwrite lectures, seminars, gallery experiences and a variety of free after-school programs for students and guided school visits for children of all ages. Your contribution can support the broad range of activities provided by the Program, or can be directed to a specific activity such as a lecture, a school class visit, or another education program of your choosing.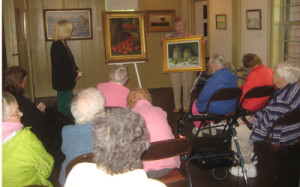 Education Sponsorship opportunities include:
• Season Educational Programming Sponsorship ($10,000)
• Seminar Series for Seniors ($5,000)
• Arts and Alzheimer's Program ($5,000)
• The Get smART! Program (primarily elementary school students) ($5,000)
• Annual Large-Print Exhibit Guides ($1,000)
• Guided School Visit Program Development ($1,000)
• After School Program for Students ($500)
For further information about these and other education sponsorship opportunities, please contact the museum (508) 428-7581.
Captions: Upper left the Get SmART program for children; lower right Arts and Alzheimer's