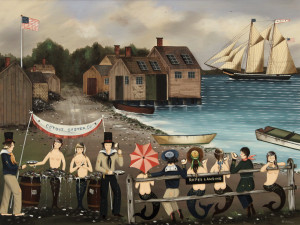 Each year the Cahoon demonstrates the exciting range and diversity of American art through its renowned exhibition schedule. Exhibitions range from single iconic paintings to sweeping surveys of the work of an artist or group of artists. The Cahoon presents six major exhibitions per year, which draw thousands of visitors from New England and beyond.
The Cahoon's exhibitions are funded exclusively by outside supporters. Exhibition sponsorship at the Cahoon offers significant philanthropic and marketing opportunities. Sponsorship opportunities are also available for smaller installations and special exhibitions highlighting works of particular interest.
The Museum annually introduces thousands of visitors to innovative, creative exhibitions that explore themes in the art world.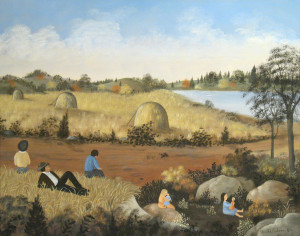 To sponsor an exhibition please call the Museum at 507 428-7581.
Our exhibitions are always well received by the Cape Cod Community and many reviews of the exhibitions appear in the Cape Cod Times and Barnstable Patriot.  As a sponsor, your name and logo will be on all publicity materials for the exhibitions including newsletters, website, and postcards.
Captions: Upper left – Ralph Cahoon, Cotuit Oyster Co, oil on masonite, Permanent collection of the Cahoon Museum of American Art
Middle right –  Martha Cahoon, Noon Rest, oil on masonite, Permanent collection of the Cahoon Museum of American Art