2017 Event Schedule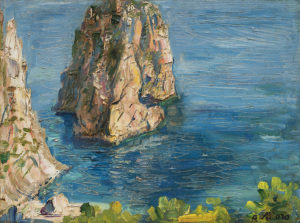 Gallery Tour – Sunday, March 19,  1:00pm
A Painter's Life: Paul Moro with Valerie Ann Leeds, PhD
Enjoy a guided tour of the exhibit with art historian Valerie Ann Leeds and learn more about Paul Moro's colorful life and philosophy of creating art.
Lecture – Friday, April 7,  11:00am
Conversation on Art Conservation with Christina Zuccari of Moro Studio Inc.
Christina Zuccari, granddaughter of Paul Moro, continues the family tradition of working in art conservation and will deliver a lecture on her family's multi-generational history in the field.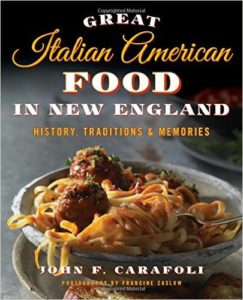 Talk & Tasting – Friday, April 21, 4:30 to 6:30pm
A talk and tasting event with author John F. Carafoli
Carafoli will share his insights into Italian enclaves and the evolution of Italian-American cuisine with an illustrated talk, followed by a book signing of his recent book, Great Italian American Food in New England and light savoring of wine and Italian food prepared by an acclaimed local chef.
This event costs $25 or $20 for museum members and reservations are required.
Pops by the Sea Commemorative Painting Unveiling – Thursday, May 11 from 5:00 – 7:00pm
Join the Arts Foundation of Cape Cod for this annual unveiling of the Pops by the Sea Commemorative Painting, celebrate the Pops T-shirt design winner and runner ups. RSVP to the Arts Foundation of Cape Cod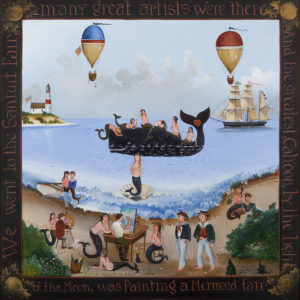 Artist's Talk – Friday, May 19, 11am – 12:30pm
Telling the Story with Liz Mumford
Liz Mumford's nostalgic folk art paintings are influenced by the landscape and history of Cape Cod. Liz will describe her use of photos, family documents, and historic memoirs to capture details of architecture, clothing, boats and customs to recreate a time and place.
Wine & Paint Night with Liz Mumford – Tuesday, May 23, 4:30 – 6:30pm
A special creative evening with Liz Mumford. Enjoy a glass of wine and learn the techniques of creating a painting using stencils and watercolor; no skill required!  All materials including paper, paint and stencils are included. Limited to 15 participants, RSVP required. $75/$65 Members. cmaa@cahoonmuseum.org or 508.428.7581  A portion of the proceeds will benefit the Cancer Care at Massachusetts General Hospital.
Cruise with the Cahoon! – Thursday, June 1 (rain date Tuesday, June 6) 5:30-7:30pm
All aboard the Island Queen for a fun and festive cruise in support of the Cahoon Museum of American Art! Leaving from Falmouth,
sail the Nantucket Sound with mermaids and sailors on this South Seas themed adventure. Dance the night away with DJ of Straight from the Cape, Caribbean sounds, limbo, bountiful hors d'oeuvres, treasure chest prizes, raffles, cash bar libations and a few other surprises. Complimentary drink ticket for Museum members.
Suggested attire: South Seas casual, mermaids – be creative!
Don't miss the boat!
Round up your friends and buy your tickets today!
$65 per person. cmaa@cahoonmuseum.org or 508.428.7581
The Brush Off – Saturday, July 8
A day of summer fun celebrating the Cape's art and artists. This 27th annual art festival features silent and live art auctions, artists painting live on location, food and music on the Cotuit Village Green. Come experience heart-warming community spirit while benefiting the museum!