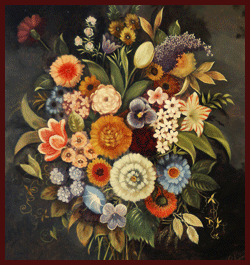 The Ralph and Martha Cahoon Catalogue Raisonné project seeks to document and research artworks by the Cape Cod folk artists, Ralph and Martha Cahoon, with the goal of publication of a catalogue raisonné that will provide a comprehensive source for Cahoon scholarship.
The Cahoon Museum maintains an archive of the papers and primary records of the Cahoons, including correspondence, sales and exhibition records, and photographs.
Do you own a painting by Ralph or Martha Cahoon?
The Cahoon Museum seeks to build on archival research by inviting collectors, galleries, and institutions to expand the knowledge of the Cahoons' work by completing and submitting the Cahoon Catalogue Raisonné form.
The Cahoon Catalogue Raisonné captures information such as title, artist, medium, size, and provenance details such as previous owners and exhibition history. It also records the present condition of each work. This information is cross-checked with the Museum's archival records.
The Cahoon C
atalogue Raisonné is an ongoing project maintained by Rosemary Rapp, founder of the Cahoon Museum, who has been working on this project since 1984. The information you provide is confidential and you may be listed as an anonymous owner in the published catalog.
You are encouraged to mention the project to other Cahoon painting collectors and have them contact the museum. Please keep the museum informed of any changes in your completed record.
We thank you in advance for taking the time to fill out the form and submit information. Your participation is a valued contribution to ongoing Cahoon scholarship. For any questions or more information, please contact Rosemary Rapp by phone at (508) 428-7581 or email: rosemary@cahoonmuseum.org.
Please note: The Cahoon Museum does not authenticate or provide valuations of Cahoon artworks.