Welcome to the Cahoon Museum!
Please join us at our Temporary Location while the preservation of our 1775 Georgian Colonial home is underway. Starting on March 11, 2014 we will be open at 9 North Street, Mashpee Commons, Mashpee, MA 02649.
The mission of the Cahoon Museum of American Art is to promote love and enjoyment of the visual arts through exhibits, educational programs, and continuing development of its permanent collection. The museum both celebrates the legacy of Cape Cod folk artists Ralph and Martha Cahoon, displaying their art and preserving the historic building that was their home and studio, and embraces the full vitality of American art with emphasis on past and present artists of Cape Cod and the Northeast.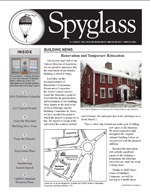 Check out our latest Spyglass Newsletter for more information regarding our
Renovation plans and our new Temporary Location.
Cahoon Museum of American Art
TEMPORARY LOCATION - 9 NORTH STREET, MASHPEE COMMONS, MASHPEE, MA 02649
Mailing address - P.O. Box 1853 · Cotuit, MA 02635
Phone: (508) 428-7581 · Fax: (508) 420-3709
Hours: Tuesday-Saturday 10:00am-4:00pm · Sunday 1:00pm - 4:00pm.
Closed on Mondays, all major holidays and in January and February.
Admission: General admission $8 · Seniors $7 · Students $6 · Members and children under 12 free.