STAY TUNED FOR MORE INFORMATION ABOUT OUR 2018 EXHIBITIONS
---
---
2017 EXHIBITIONS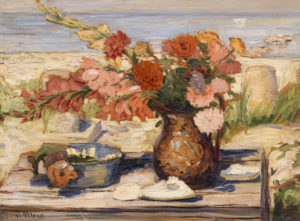 Paul Moro: A Painter's Journey
March 15 – April 30, 2017
Opening reception – Saturday, March 18 from 4:30 to 6:00pm
This landmark exhibition is the first-ever retrospective of artist Paul Moro (1886-1953), whose oil paintings showcase a masterful vision of Cape Cod in the early twentieth century. Cape Cod was an important influence and inspiration to Moro and where he created some of his most memorable works. This exhibit surveys the body of work he created, including lushly rendered landscapes and energetic genre scenes.
Exhibition sponsored by "A Former Member of the Cahoon Museum's Board of Trustees"
Paul Moro, Floral Bounty By The Bay, Dennis, 1936, oil on canvas

---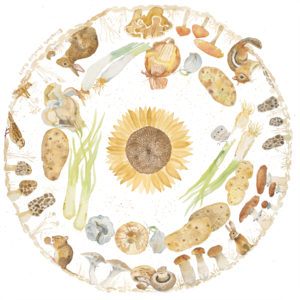 Elizabeth Mumford: New Works
May 3 – June 25, 2017
Opening reception – Friday, May 5 from 5:30 to 7:00pm
Liz Mumford's nostalgic paintings of New England scenes and seaside life reflect a contemporary take on the simple pleasures and traditions of our American heritage. This exhibit highlights both Mumford's signature style of painted tableaux with lettered borders drawn from such sources of New England wisdom as Benjamin Franklin's Poor Richards Almanac, bible verses, and sea shanties and presents a new direction in her creative work, that of large-scale circular watercolors.
Exhibition made possible by a Community Exhibition Partnership with:

Elizabeth Mumford, Rabbits and Potatoes, 2017, watercolor on paper

---
Master of the Maritime: James E. Buttersworth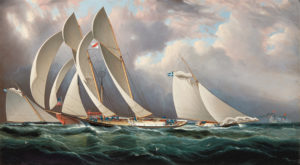 June 28 – August 20, 2017
Opening reception – Sunday, July 2 from 4:30 to 6:00pm
James Edward Buttersworth (1817-1894) is considered among the foremost American ship portraitists of the nineteenth century. This exhibition features examples of his maritime paintings, known for their meticulous detail, dramatic settings, and grace in movement. Buttersworth was born in London to a family of maritime artists and studied with his father, Thomas Buttersworth who was also noted for the genre. This exhibition presents fine examples by both James and Thomas Buttersworth from private collections and museums including paintings from the collection of the Cahoon Museum of American Art.
Exhibition made possible by Community Exhibition Partnerships with:
James E. Buttersworth, Yacht Race off Sandy Hook, oil on canvas, Collection of Alan Granby and Janice Hyland

---

At Rest, In Flight: Cape Cod Bird Carvings
August 23 – October 8, 2017
Opening reception – Friday, August 25 from 5:30 to 7:00pm
The art and craft of bird carving has an important history on Cape Cod where the Cape's rich bird life has drawn both bird watchers and bird carvers alike. This exhibition surveys the history of decoys and the change of the craft into a unique art form. Artists included are considered masters in the field who have the ability to capture wildlife subjects in precise detail, such as historic carvers Eldridge Arnold and A. Elmer Crowell, as well a number of prominent contemporary carvers.
 Elmer Crowell (1862-1952), Lesser Yellowlegs Preening, circa 1930-1940, Private Collection
Exhibition made possible by a Community Exhibition Partnership with: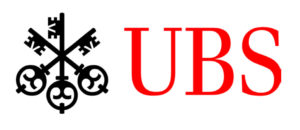 ---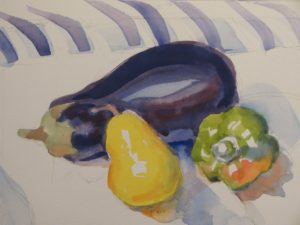 Small Works Show
November 21 – December 23, 2017
Opening Reception and Holiday Party will be held on Friday, December 1 from 5:30 to 7:00pm
Small Works showcases paintings and mixed media works from talented local artists. With the theme of the miniature, this year's exhibit emphasizes extra small works. A portion of the proceeds benefits the Cahoon Museum and helps to support the Museum's dynamic exhibitions, conserve collection artworks, and develop meaningful creative experiences.
Artists include: Heather Blume, Howard L. Bonington, Don Cadoret, Betsy Payne Cook, Anne Doyle, Kelly Ferguson, Paula Grimes, William Hemmerdinger, Marieluise Hutchinson, Kathryn Kleekamp, Jane Lincoln, Alison McMurry, Rosalie Nadeau, Kevin Nolan, Susan O'Brien McLean, Carol-Jean O'Toole, Karen M. Pinard, Candice Ronesi, David Sigel, Christie Velesig, and Lynn Wallin.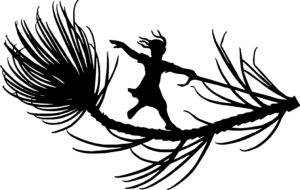 Contemporary Silhouettes: The Art of Cut Paper
October 11 – December 23, 2017
Opening reception will be held on Saturday, October 14 from 4:30 to 6:00pm
Contemporary Silhouettes presents an abundance of extraordinarily intricate work produced in the art form of cut paper. Contemporary paper artists draw upon many global folk traditions for inspiration, including Scherenschnitte, chuāng huā, and American portrait silhouettes as they re-imagine innovative new handcrafted pieces.
Historic and contemporary artists in this exhibit include Elizabeth Alexander, Ernesto Caivano, Pamela Dalton, Fred Liang, Lucy Gibbons Morse, Randal Thurston, Tomas Vu-Daniel, and Yuan Zuo, who explore themes of the silhouette to achieve highly intricate and inspiring effects.
 Lucy Gibbons Morse (1839) – 1936), Illustration # 1 from "Breezes" published in 1921, Collection of Sarah Davis